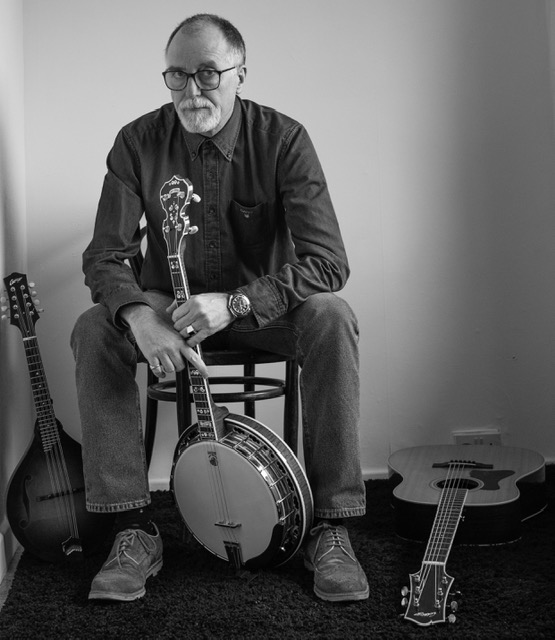 Martin started playing and performing Irish traditional music on mandolin, guitar, bouzouki and mandolin banjo whilst a student in Manchester in the early 1970's. After University and briefly teaching in Manchester he returned home to the North East in 1976 and from 1977 played tenor banjo in the Joint Stock Ceilidh Band with Trevor Davison, Jack Grimes, Chuck Fleming and Jim O'Boyle. In 1979 he competed in the North Britain, All Britain and All Ireland Fleadh Ceoil and later that year formed the Champion String Band with Chuck and ex High Level Ranter, Tommy Gilfellon. This, his first professional band, played many of the major festivals in Britain, Ireland and Europe, hosted their own TV series (The Champion String Band) on BBC1, 1981/82 and recorded the highly acclaimed album of the same name on Black Crow Records in 1981. Collaborations with Kathryn Tickell, a guest on their TV series, led to performing on and arranging much of Kathryn's first solo album On Kielderside on Saydisc. The Champions split in 1984 whereupon Martin played lead guitar and mandolin in the Bluegrass/Country band Dealers Wheel, with George Pickings (RIP) Terry Betts and Dave Stronge (RIP).
With the demise of Dealers Wheel after the death of George and following Dave's emigration to Williamsburg Virginia, USA, Martin formed The Rub with Norman Holmes, Paul Archer, Becky Taylor, Ian Carr and Les Moss in 1988, and later adding Bob Fox on keyboards and vocals. Festivals, folk clubs and concert tours followed, and the band signed for Celtic Music in 1989/90 recording on Celtic Music at Blue Strike Studios Harrogate in 1989/90. Their unreleased album "Dancing on the Wireless" led the band to individual and collective collaborations with Gerry Kaley (The Delicate Touch- SoWhat Records) and Vin Garbutt (Bandalised and Word of Mouth). Ian Carr's departure to join the Kathryn Tickell band caused the band to split, and the rump of the band, featuring Martin, Norman and Bob continued, touring Holland and Belgium in 1993 and 1994. The upsurge of Irish theme bars during the mid 1990's was a trend too good to ignore and the O'Boyle Band, with Martin, Jim O'Boyle, Andy McLaughlin, Tony Martin and a trio of fiddlers in Paul Archer, Chuck Fleming and Paul Ruane was formed to fill the gap. When Jim departed for Hong Kong in 1996, the band continued as a quartet featuring any one of the aforementioned fiddlers depending on their availability. The core of the quartet of Martin and Andy plus fiddler Dan Hands and Andy's son James McLaughlin on flute and whistles continue to this day performing a mixture of new and traditional songs and tunes as the Jig Doctors
In 1998 Martin formed Cúig with Norman Holmes, Andy McLaughlin, Paul and Dee Ruane. Andy left in1999 and was replaced by Bassist Sean Taylor and yet more festivals, concerts, clubs and tours followed. Their debut album Prospect was released to excellent reviews on their own label in 1999 and later released under licence to Green Linnet records (now Compass records) in 2002. After a final tour of Canada and the USA in 2002, Cúig split due to family and work commitments. Martin continued to occasionally play with Paul and Dee until PAUL succumbed to cancer and after a long illness died in 2016. He's sorely missed by all.
Around 1999 Martin was approached by Alistair Anderson in his position as Director of Folkworks and Head of the newly set up Traditional and Folk Music Degree at Newcastle University to see if he was interested in being the principal Banjo, Mandolin, Bouzouki tutor. He gladly accepted the challenge and taught from the inception of the course in 2000 to 2007 before family and business commitments meant he could no longer give it the necessary time.
After Cúig split, the North Country Dance Band was formed in 2003 featuring Martin playing electric guitar, along with Sean Taylor bass, Julian Sutton accordion, Andy McLaughlin pipes and wind synthesiser, Dave Pratt drums, Dan Hands fiddle and Tony Martin bouzouki and vocals. Although short lived, the nucleus of Martin, Tony, Dan, Andy, Dave plus new bassist Steve Farrow continued after the departure of Julian to The Kathryn Tickell band and Sean to The Jez Lowe Band, the Bad Pennies and formed Steamradio the Celtic folk rock band. Steamradio recorded the album The Twilight Shift in 2005.
Martin currently plays in two outfits, the Jig Doctors with Andy and James McLaughlin and Dan Hands, and in the trio Archer Matthews Russell with Paul Archer and Alistair Russell.