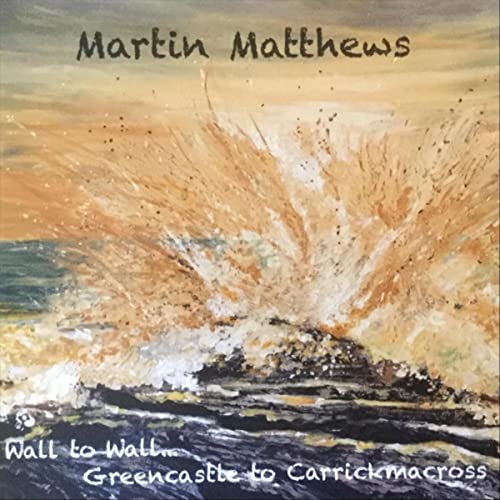 Ivan Emke – The Living Tradition

MARTIN MATTHEWS – Wall To Wall: Greencastle to Carrickmacross
Cuig Music CUICD015
This release completes a trilogy that loosely follows the route of Emperor Hadrian's Roman wall and the Mourne Wall. It is an intimate musical portrait of Northumbria, Cumbria and Oriel, which was to accompany an art show of Matthews' called Wall To Wall. There is a Northumbrian feel, despite the Irish pedigree of a lot of the tunes.
Matthews, an artist and a multi-instrumentalist, is helped out by a dozen others, including folks like Gerry O'Connor and Karen Tweed. There is a mix of traditional and original compositions (which you may have some difficulty telling apart). There are barndances, reels, jigs, waltzes, and airs aplenty. It includes a stately version of Alistair Anderson's The Road To The North, a cerebral setting of The Mourne Wall (which is referred to as a "pastoral" – but without the theology), the loose, jazzy feel of the original set Roads To Cross And Carrick, the gentle and keening Carlingford Shore, the jaunty and wandering Paul Ruane's Jig, and a grand set of country-tinged waltzes named after a long-lamented dance hall in Dundalk. The selections are clearly rooted in the region, and the whole release (including the lovely art in the liner notes) has a genuine feel for the land and the people. It evokes the spirit of sessions in historic inns, with the waning light of late afternoon reflecting in the distorted glass of the windows.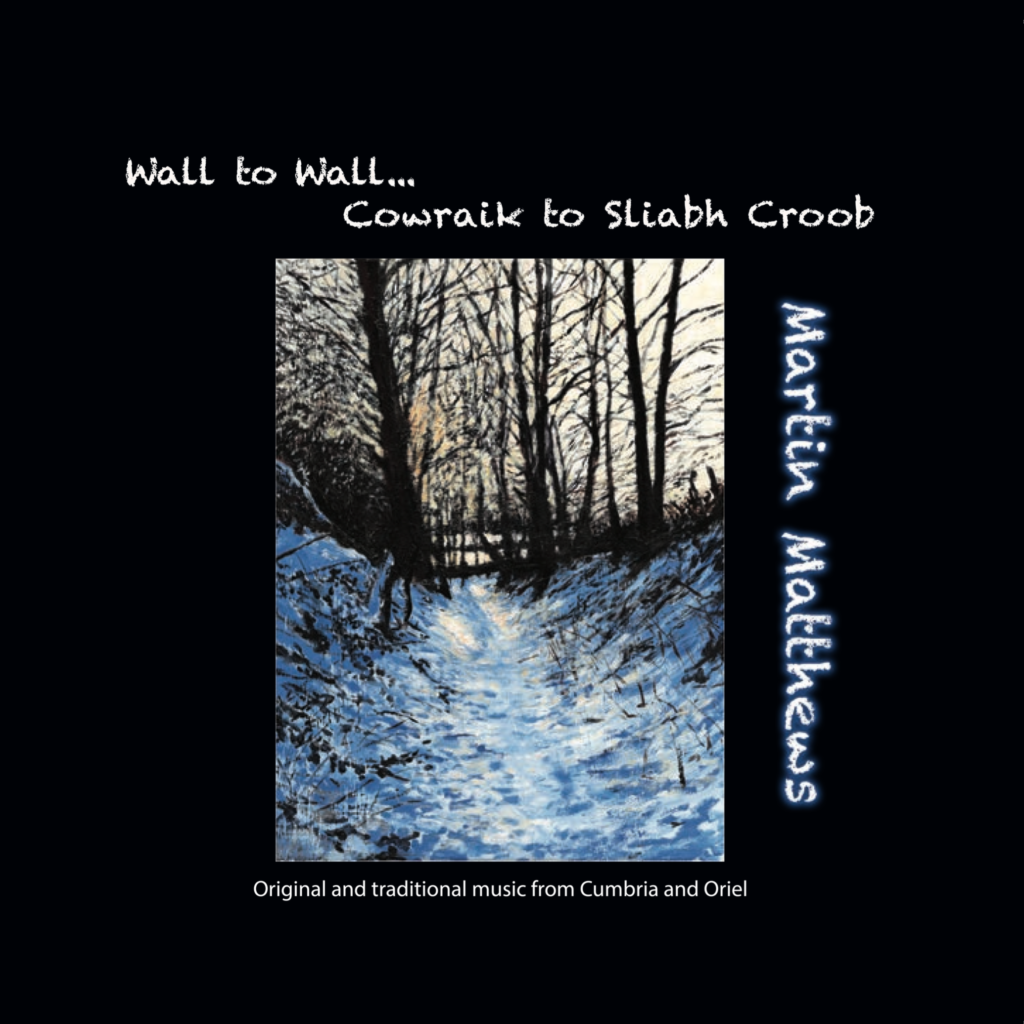 C. John Edwards – The Living Tradition

MARTIN MATTHEWS – Wall To Wall: Cowraik To Sliabh Croob
Cuig Music CUICD014
Martin Matthews is a creative instrumentalist who knows some very good musicians, some of whom join him in playing this set of largely self-penned tunes. A masterly meld. The tunes are set to accompany acrylic paintings, mainly landscapes, with a narrative attached to each. In a way, the CD matches the spirit of these and, whilst nothing to do with this genre of music, reminds me of jazz sax Tommaso Starace's compositions against black and white photos of Italy.
The highlights for me, after some fairly familiar formats of airs, reels, jigs and hornpipes, were the almost reggae off-beat composition, The Green Groves Of Olives (reggae in Tuscany? See the painting in the sleeve notes), and Sliabh Croob, where the Uilleann pipes tie the soundscape in an elastic lyricism, completing the circuit of the theme of the disc – from Cumbria to Ireland and back.
Martin's bouzouki and mandolin playing, with accompanying bass, remind me of Chris Thile's recent offerings accompanied by bass player Edgar Meyer. His guitar playing is just as deft.
This CD is the second of a trio-series called Wall To Wall which features arrangements of traditional and recently composed tunes, a new repertoire which Martin promises will be available on iTunes and in a forthcoming manuscript for those who wish to study them. (It may also be of interest to watch Sean Taylor's vimeo of Martin talking through his musical-artistic ambitions online.)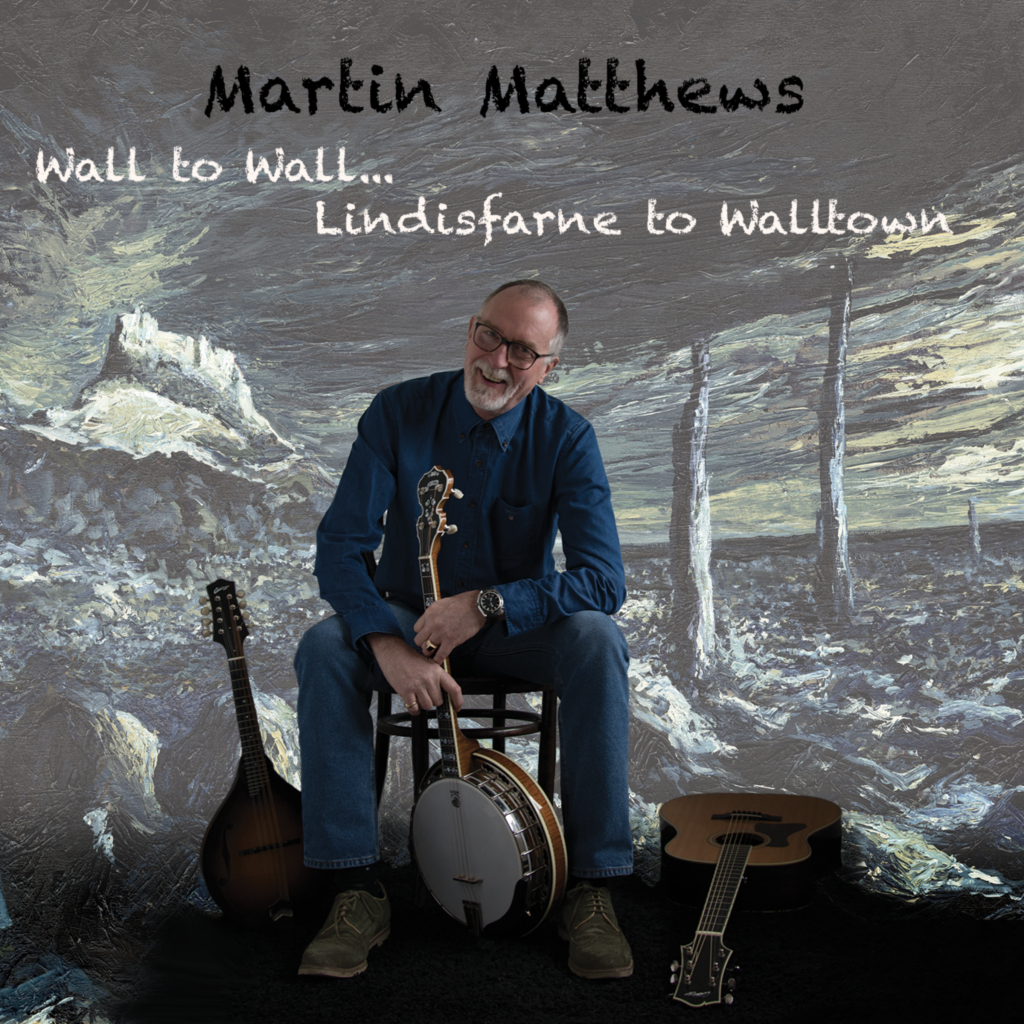 Grem Devlin – The Living Tradition

MARTIN MATTHEWS – Wall To Wall: Lindisfarne To Walltown
Cuig Music CUICD013
This collection of mostly instrumental, chiefly Northumbrian in origin, selections has been gathered together to accompany a series of art exhibitions, also by Martin Matthews. The extensive sleeve notes not only describe the background to the paintings but also illustrate the said works of art – and they are indeed impressive (check out his website – this guy oozes talent).
As for the music, it is a delight from start to finish. Matthews himself plays six instruments more than competently, and is supported admirably by Sean Taylor on basses, guitar, bodhran and keyboards. There are also significant contributions from a number of other musicians – notably Paul Martin on pipes, and Roddy Matthews and Paul Archer on fiddles. The tunes are mostly self-penned but have a distinctly Northumbrian feel, with a liberal sprinkling of Irish and Scottish themes. Particular favourite medleys for me are Big Skye Set and Lindisfarne – After the Fall, both sets of reels. The waltz Salters Gate is lovely and struck a chord with me as I used to sail on a ship of the same name (that Saltersgate was named after a street in Whitby – this one is derived from a section of the Durham hills that the A68 cuts through).
The entire project has been carefully thought out such that the tunes perfectly complement the artworks that they are intended to showcase, and are lovingly co-produced by Matthews himself and the said Sean Taylor. This is 60 minutes of musical embrocation that I heartily recommend. Wow, this is panning out to be a really good year for folk music if this first taste is owt to go by.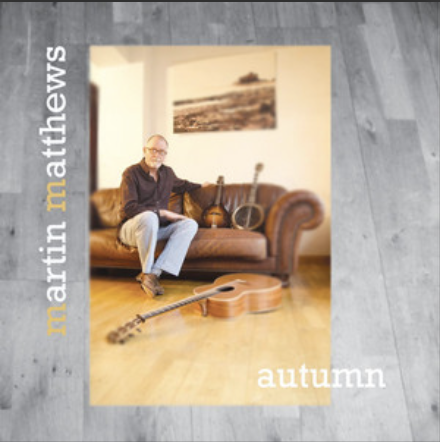 Pete Fyfe – UK Folk Magazine

MARTIN MATTHEWS – Autumn
Cuig Music CUICD012
For those not in the know, Martin Matthews in the early 80's worked as part of the trio The Champion String Band alongside lengendary fiddler Chuck `Where's My Teeth' Fleming and vocalist Tom Gilfellon. He was also one of those astonishingly flamboyant master technicians of all things strings (mandolin/bouzouki/tenor banjo and guitar etc). Following on from the Champions, the `blink and you'd miss them' The Rub (that also included Bob Fox and Ian Carr amongst their number) and Cuig some years later came and (unfortunately) went and I hadn't heard much from Matthews Mansions until this recording landed on my doorstep. Cutting to the chase, this album represents over seven years of recording sessions painstakingly sewn together and now available for the first time as a selection worthy of any folk enthusiasts collection. To complete the sessions, over those intervening years he has been helped in the fiddle department by amongst others; Dan Hands, Paul Archer, (Feast Of Fiddles) Tom Leary and Amanda Lewis. Triplets were never a problem for this incredible musician and if there is space trust me Mr Matthews will fill the gap…not to be flash…but because it makes musical sense. From an observer's point of view as a composer of tunes Matthews truly is inspired and with creations including the Bollywood styled "Burnhope Bhangra/Glass Fiddle" you need look no further for a finer selection of modern `folk' tunes. Footnote: My brother Chris and I used to refere to Martin as `Martian' Matthews as his interpretive skills of traditional tunes were `out of this world' and if you want to know why, then I suggest you buy this album.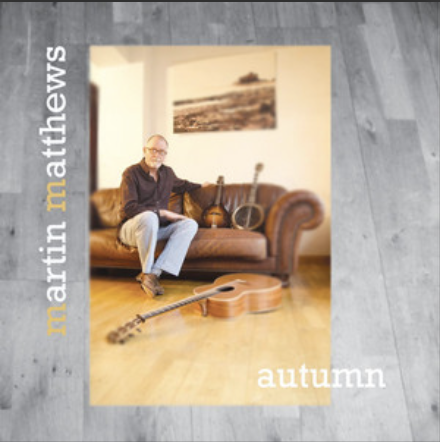 David Kidman – Living Tradition
MARTIN MATTHEWS – Autumn
Cuig Music CUICD012
As a supremely skilled exponent of mandolin, guitar, bouzouki, cittern and – especially – the tenor banjo, Martin's been around the scene for ages it seems, first as a key member of The Champion String Band (during which era he appeared on Kathryn Tickell's debut release!) and latterly with the ensembles Cuig and Steamradio. His first nominally "solo" album, allegedly ten years in the making, is a cathartic exercise, a spicily eclectic parade of tune-sets (mostly made up of original compositions of Martin's) in distinctive stylings often deriving from other musics, wherein the majority of the instruments are played by Martin himself (ingeniously multitracked) with intelligent accompaniment by Sean Taylor on various fretted and fretless basses, keyboards and percussion, and guest contributions from no less than five fiddlers (Dan Hands, Amanda Lewis, Tom Leary, Chuck Fleming and Paul Archer) and pianist Randy Andropolis.
Sparky, lively playing characterises each and every selection, with some surprising and invigorating twists and turns of idiom and phrasing; and enjoyment for both players and listeners proves the key element, however virtuoso the musicianship may be. To give a flavour of the delights on offer here, just sample the opening pair of tracks: the first being a medley that starts in Latin mode then beats up into a rocky finish, whereas on The Burnhope Bhangra reel-set Martin's twangy Fender Stratocaster meets head-on with bouncy dub beats and Dan Hands' brilliant fiddle melody-line. The quasi-improvisational Musette Waltz pairs easily with the Hot Club-cum-Harry Lime atmospheric gypsy café lilt of La Maison Jaune, and the Slow Steel set is another stunning exposition of musicianly banjo technique at various tempi. There's an attractively bluegrassy demeanour to Martin's treatment of O'Hanlon's, first as a reel and then a delicate waltz, while even on the more orthodox-framed (yet still blistering) banjo excursion of the Dr Cate Matthews medley there's plenty of sensitivity to savour in the invention. The Telecaster alternates melodies with the banjo on The Unresolved set, then the disc's closing gambit is to invent a "new genre for 21st century folk", that of Ethno Techno, which isn't nearly as dreadful as it sounds! And just to show that Martin's a good sport too, he delegates the lead-work entirely to fiddlers Dan and Chuck on the gorgeous Shetland-cum-Nashville-cum-Transatlantic-Session-inspired Maria's Waltz.
Yes, with Autumn, Martin's produced a really tasty example of boundary-straddling but thoroughly listenable and natural integration of styles and modes: one that, by the way, can also be heartily recommended to anyone who believes that all-instrumental discs are devoid of interest.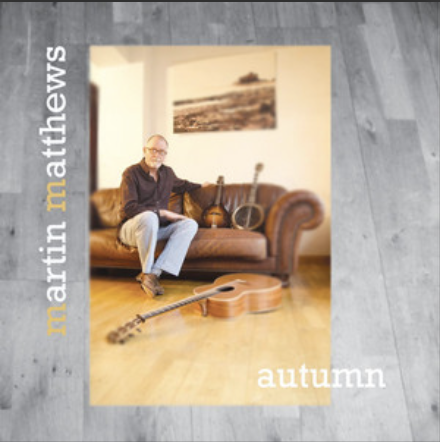 John O'Regan – Irish Music Magazine

MARTIN MATTHEWS – Autumn
Cuig Music CUICD012
Northumbrian multi-instrumentalist, Martin Matthews has been a mainstay of some ground-breaking acoustic bands from up North including The Champion String Band, The Rub and Cuig. Now here's Autumn a collection of self-penned and locally placed tunes from Northern players and the odd visitor like Manchester's Tony Sullivan.
Musically eclectic is the menu as the styles cruise through Latin Jazz, French café swing and Irish themed revelry. Matthews's multi-instrumental credentials transfer to a variety of bouzouki, banjo,mandolin, cittern and electric and acoustic guitars. Dan's Hands begins in Jazz territory before settling into a Gerry O'Connor/ Bela Fleck groove while La Maison Jaune reflects airy Seineside nights in Parisean cafes. Dr Kate Matthews jigs slowly before gently loping itself in a laid back Irish style hammock. Various guests join especially Sean Taylor's atmospheric bass and keyboards gently setting tunes in their natal beds. This is music from a player completely at home with his muse.
Autumn is a wonderful collection of eclectic and pulsating tunes from a musician still at the height of his game.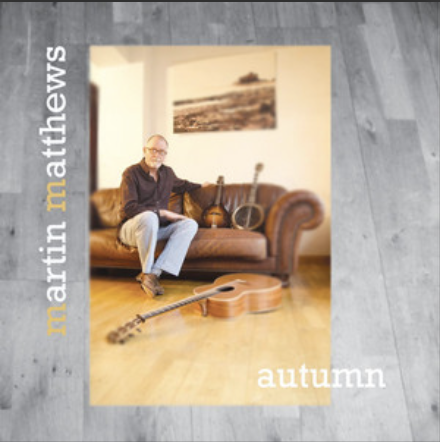 Nick Till – The Session

MARTIN MATTHEWS – Autumn
Cuig Music CUICD012
"Autumn" is a debut solo album by Martin Matthews, a resident of County Durham (NE England) who has a very long track record as a master of the guitar, banjo and all things fretted, and as a participant in bands and on other recordings. Out of many musical involvements, Martin has been a member of NE bands The Champion String Band, Cuig and The Rub as well as C&W and Swing-themed bands, has played for a great many ceilidhs, has been a tutor on the Newcastle Folk Music Degree course and, way back, won the solo banjo competition at the 1979 All-Ireland Fleadh Ceoil (well, I think I've got this right…). Not least, he has consistently graced the local session scene.
Martin writes: "This album is made up of multi track recordings taken over the last six to seven years featuring me playing mainly my own compositions on a mixture of tenor banjo, acoustic and electric guitar, cittern, bouzouki and mandolin…various tunings have been employed, but as a rule tenor banjo is tuned to the standard Irish tuning of GDAE, mandolin the same, guitar in standard EADGBE and (also) CFCGDG low to high, cittern GDAEA and bouzouki GDAD." He goes on to credit instrument-makers, co-musicians and helpers and particularly Sean Taylor who co-produced the album with him.
Martin's music can fairly be described as 'Celtic' without any of the factors that have given 'Celtic music' a somewhat iffy image. It is based soundly in Irish, but accommodates Scottish, Shetland and Northumbrian idioms with no trouble and has taken on board notably American and jazz influences, as well as some more exotic Latin / Mediterranean, gypsy and Eastern European ones. These, where they are not the main fare, flavour the more 'traditional'-type tracks in an instinctively integrated manner that is light-years away from slapping some kind of novelty treatment on tunes for its own sake.
Martin, like many in County Durham, has Irish family roots. Irish communities in the County established themselves or notably expanded in the mid-c19 when Famine emigration happened to coincide with major developments in this area's industrialisation. In particular, iron and steel was a new industry, not in being previously non-existent but in the unprecedented scale of its operations occasioned by substantial mineral discoveries, new railway connections and improved technical processes. The Irish gravitated to new steel towns such as Consett and Middlesbrough (and many others) where they stood to face less competition and antagonism than may have been their lot in the coal-mining communities. County Durham dwindled as an employment mecca for immigrants a very long time ago (though the recent Polish influx was impressive), so there has not been continuing Irish immigration on this kind of scale. Hence, while Catholic, family and personal affiliations with Ireland remain, the music of the c19 immigrants – if any – ceased to be ubiquitous, if it ever was that. However, players such as John Doonan and other c20 immigrants kept Irish music alive in the North-East in the years before the folk revival and the increased uptake by local players of whatever background.
Martin and certain fellow-musicians in the area (whether on or off this album), of whatever background, have thus got into Irish music because they discovered it, not because they were brought up with it. Accordingly, a kind of converts' fervour is in their music, a sense of taking very little for granted: they have thoroughly studied technique, approaches and repertoire, and aimed very high. Their music is characterised by firm rhythms, a definite drive and clearly articulated melodies. Among influences, the bracing tunes of Shetland are significant and even more so the Swing guitar style of Shetland's 'Peerie' Willie Johnson, which caught on particularly in Scotland and also in North-East England, at any rate among those with the skill to pull it off. The latter included the late Tich Richardson of The Boys Of The Lough, whose brother Dave happened to be a pioneer of the playing of the mandolin family in the area; they, and the others in the band, were familiar with the Durham sessions. Meanwhile the Inflections from various American musics, whencesoever learned by the musicians, are quite congruent with the fact that America has haunted and beckoned North-Easterners for a very long time: very many emigrated there, and many postwar musicians have taken the chance to visit and play there.
Favourite tracks of mine include the lovely, drifting Maria's Waltz; the Steel Reel set, now well-established in local sessions; the shores-of-the-Mediterranean-sounding Aycliffe Richard's Waltz; Martin's own The Lerwick Reel; and the jigs on Track 1, played with the attack of Scottish pipe jigs and having a lot of that feel. Meanwhile, the bluegrass-y O'Hanlon's Crooked Road Reel could slot right in to the soundtrack of "Easy Rider"…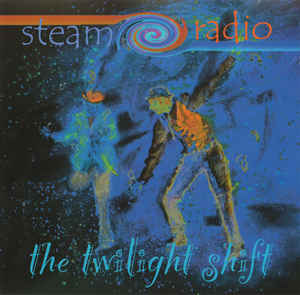 Pete Fyfe – UK Folk Magazine

STEAMRADIO – The Twilight Shift (SRAD 01)

Some years ago I had the pleasure of performing alongside multi-instrumentalist Martin Matthews (ex-Champion Sting Band) on a tour in France along with the Clann Na Gael Irish Dancers. The only reason I mention this is that Martin must have been strongly influenced by the indigenous music that now plays a significant part in the make-up of the folk-rock band Steam Radio.
Along with collaborators Andy McLaughlin, Dan Hands, Tony Martin, David Pratt and Steve Farrow the French/Breton influence is obvious utilising many Dance Plinn style melodies. This carries over to the use of McLaughlin's use of English pipes and Hands fiddle driving things along at a cracking pace.
On the song front Tony Martin's expressive North-East lilt (much like that of Tom Gilfellon) is just what is required to propel the bonhomie of the band and on his own composition of unrequited love "Martha" and Dougie MacLean's "Pabay Mor" where a more-or-less Country influence is employed break up the instrumental sets in an appealing 'let's just enjoy ourselves' kind of way.
It's also nice to hear "Jim Jones At Botany Bay" (to give it its full title) a song that will always remind me of The Bushwackers Band from Australia. This infectious blend in return rubs off onto the listener who I'm sure will wind up with a smile on their face and I expect to see everybody linking their pinkies together and dancing continuously for three or four hours.